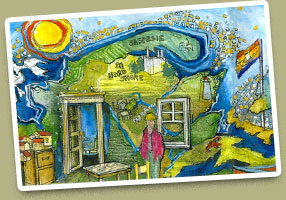 Lucien's Labour Lost
The sequel to Lucien, Lucien's Labour Lost, premiered for Theatre New Brunswick in October of 1993. This second show has our anti-hero buying in to Frank McKenna's dream of a self-sufficient entrepreneurial work force, able to leap tall buildings at a single bound—easier said than done. This show reflects the downsizing trends of the early 1990's. Lucien is over forty, and for the first time in his life, mortality is raising its profound head. As in the first show,
I have attempted only to portray a working man from Northern New Brunswick.