Lucien 4:
Helter Smelter
"North Shore NB – The New Miami"
Canada's funniest mill-worker is at it again with a
BRAND NEW episode to keep you rolling in the aisles!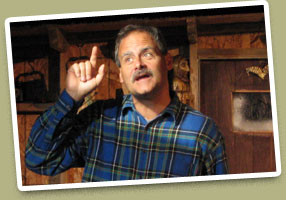 Last seen as a Florida tourist, Lucien returns to his North Shore roots where we find him smelt fishing in a colony of shanties on the Bay of Chaleur—still expounding on world issues, national crises, love, sex & politics. He's forced to ponder even bigger issues when global warming cuts his frozen shanty town loose & turns it into a floating state separating from the rest of Canada — heading towards Quebec, infinity & beyond!
Sponsored by